News Image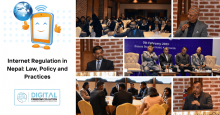 Safer Internet Day has been celebrated worldwide on February since 2004, with around 180 countries and endorsing the event. This year, to mark the occasion, Youth IGF Nepal and members of the Digital Freedom Coalition organized a High-level Panel on Internet Regulation in Nepal.
During the event, a position paper on Internet Regulation Policy and Practices in Nepal was presented by Mr. Ananda Raj Khanal. The telecom regulator of Nepal, a Hon. Member of Parliament, and the Vice-chair of Nepal Law Commission also addressed the inaugural session.
The panel discussion included Ex-minister Ganesh Shah, Representative from ISP Association Nepal, Puskar Singh Badal, and Members of Parliament Hon. Dipa Sharma, Hon. Ramhari Khatiwada, and Hon. Santosh Pariyar.