IGF 2022 High-Level Track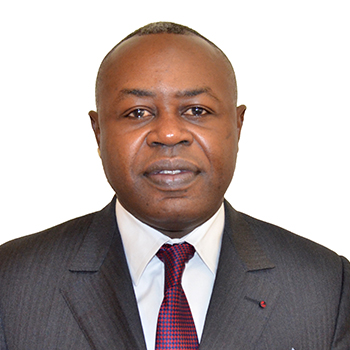 H.E. Mr. Leon Ibombo
Minister of Posts, Telecommunications, and the Digital Economy, Republic of Congo
Politician, husband, and father of 4, H.E. Mr Léon Juste Ibombo was born 30 November 1968 in Brazzaville. Ibombo completed his primary and secondary education in the Republic of Congo (Grande Ecole de Poto-Poto, Ecole de la Poste, CEG de la Fraternité) and Cameroon (Collège NOA de Mbalmayo). He then studied Political Science and Public Law at Marien Ngouabi University, Brazzaville, and the School for Advanced Studies in the Social Sciences, Paris. Ibombo's professional career began in 1997. His first jobs were at Carrefour and cable network company United Pan-European Communications PLC in France. Multiple internships in the domains of anti-corruption and investigative mechanisms and methodologies set him up for his later functions as Chief of Staff to the Vice-President of the Republic of Congo and Head of the Department of Communication and Education of the National Commission for the Fight against Corruption, Bribery, and Fraud (Office of the President of the Republic of Congo). As President of the think tank Cercle des Espérants and promoter of Sassouism, Ibombo became renowned both nationally and internationally for his interventions about, and political analyses of, the workings of the state, democracy, and corruption. More specifically, Ibombo called for, 'A new republican pact for a New Republic'. Soon, on 6 June 2016, Ibombo's political dedication led him to form, with those sharing his vision, the National Movement for the New Republic, an associative platform that actively participated in the materialisation of the constitutional referendum of 25 October 2015.

30 April 2016, responding to the danger of national rupture and the need for political rejuvenation, which became apparent during the presidential election of 20 March 2016, the President of the Republic, His Excellency Mr Denis Sassou Nguesso, appointed Ibombo as Minister of Posts and Telecommunications of the very first government of the New Republic. As Office in the Congolese Order of Merit, Ibombo was reappointed to the same role by the Second Mouamba Government, on 22 August 2017, with his position now encompassing the Digital Economy sector also. He was appointed to the position for a third time on 21 March 2021 by the Makasso government.
H.E. Mr Ibombo is an Evangelical Christian and fan of gospel, ICT, and football.